Since Kath reminded me how dissatisfied I am with my layout, I felt compelled to waste my rapidly abating free time attending to it. (Or not. All I did was make an image and slap it on the background, but that is a moot point.) To those who are going to look at it, I shall preempt the invetiable question and say this in my defense: No, I was not on crack while I did
this
.
Blame it on the boogie.
Random digression: What's with the word "preempt"? Seriously, look at it. Pronounce it as if you've never encountered the word before. I bet the Powers that Be (in primeval linguistics?) just delighted in all the inconvenience they caused, didn't they? Bunch of twisted sadists. It's enough to drive people like JRR Tolkien to invent alternatives. It's not as if he whipped up Elvish for fun, after all.
Ahem. Let's recap. English words continue to screw with us. Everybody's layouts are changing. Unexpected LJ users are being discovered. What could this all mean for us, specifically in relation to the Apocalypse and the Second Coming? It's madness, I tell you!
...I suppose I should get down to the real reason of all this. Here goes one more lame excuse for today's general imbecility. Ready?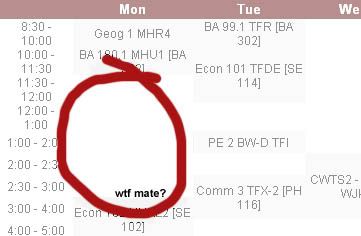 Prior to this, I made a solemn vow not to give myself 3 hour-long breaks anymore.
Huff.
Of course, it's 3 and a half hours, so I technically made good on that promise. That's probably the worst consolation ever. Anyway, I am aware that I could have it worse. However, I like to complain about my bad luck, even if it's better than yours. Pwahaha. Er.
status: questionable
musical score: "Last Dinosaur," The Pillows.